Portrait: Muhammad Bilal
Muhammad Bilal has just been employed here at the Department of Business Development and Technology, where he will be working to bring the GNSS technology closer to the companies. Originally he comes from Pakistan. Read more about Muhammad below.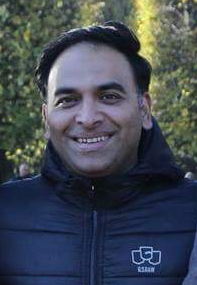 What is your area of expertise and what will you be doing here?
I am an expert in Global Navigation Satellite System (GNSS) technology. Currently, I am working on a project funded by the European GNSS Space Agency. The goal of the project is to develop a market-ready product to automate the monitoring of Photovoltaic power plants using Unmanned Aerial Vehicle (UAV).
Over the years, GNSS truly has become an enabling technology but it is also a ubiquitous technology. The use of GNSS is foreseen in a wide range of applications such as Location Based Services, Energy, Agriculture, and Transportation to name a few. The list of applications relying on the use of GNSS is certain to grow, and is limited only by the imaginations of innovative entrepreneurs and service providers. At Aarhus BSS, I plan to capitalize on the user services demand to create and/or streamline business models to foster new businesses.
Why did you choose to work at the Department of Business Development and Technology?
GNSS being a ubiquitous technology has the potential to create new businesses in a wide spectrum of user-market. I believe that being an expert in GNSS, Aarhus BSS provides me an ideal platform to bring closer the GNSS technology and businesses by working together with the experts involved in innovative business modeling at AU MBIT group.
What is your educational background?
I hold a Ph.D. degree in Microelectronics and Telecommunication Engineering from the University of Rome Tor Vergata, Italy. My research interest includes GNSS integrity monitoring, wide-use of GNSS for mass-market user applications, and the impact of space weather on GNSS. My research work has been published in renowned journals and conferences.
What have you done before?
My research in the past was mainly focused on use of GNSS for civil aviation and road-user applications. Before joining Aarhus BSS, I have been working as a postdoc at the Department of Electronic Systems, AAU and University of Rome Tor Vergata, Italy.
Please tell us a bit about yourself, your family and your leisure activities
I am from Peshawar, a broad valley situated in the Northwest of Pakistan, one of the oldest cities of Southeast Asia. We are a family of 6, three brothers and one sister. In my free time, I read poetry, and enjoy cooking oriental foods. I like travelling to countrysides and mountainous regions around the world.