Portrait of Associated Professor Sofoklis Kyriazakos
Sofoklis is looking forward to his job at BTECH strengthening the technological innovations and working on how to make them attractive and affordable. In his spare time he likes to read, have startet running and loves to travel.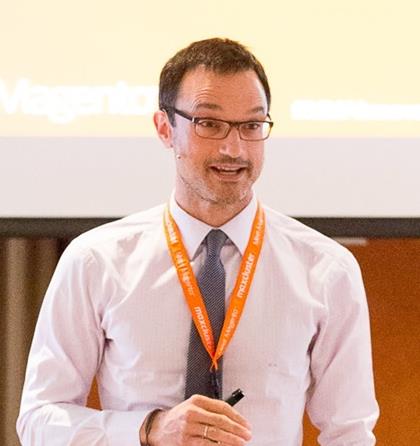 1. Why did you choose to work at the Department of Business Development and Technology?
There are several reasons, among them the department's reputation and the potential of its ecosystem. I call it 'ecosystem' because it perfectly combines people, skills and disciplines in a way to facilitate research growth by bridging the gap between technology and market.
2. What is your area of expertise and what will you be doing here?
My expertise includes elements of edge technologies blended with entrepreneurship. Over the past years and after three startups, I have learned the hard way that 'success' and 'failure' are very close to each other. I have also learned that many excellent research initiatives die, due to the lack of appropriate business modelling. In the ecosystem of BTECH, I would like to perform research with an orientation to significantly strengthen technological novelties and make them attractive and affordable for the real market. I am obviously looking forward to teaming up with colleagues and students and work in this direction.
3. What is your educational background and what have you done before?
When I was about to finish high-school, I promised myself that I would be an excellent electrical engineer, and therefore I did my Masters in RWTH Aachen in Germany. At the end of my studies -in the late 90s- it was the golden era of the telecom industry and that triggered my first pivot towards ICT. I therefore decided to do a PhD in Telecommunications of 3rd and 4th Generation. Just before finishing my PhD, I realised that I had to broaden my educational background with an MBA in Techno-economics. This combination initiated my second pivot towards entrepreneurship. When I finalised my PhD and MBA (both from the National Technical University of Athens), I decided to start my first company and at the same time, I got appointed at Aalborg University. For the next 12 years, I kept on updating my research and business interests trying to keep a healthy balance between the two. From a business perspective, I was glad to see my first company grow (counting 20 employees today), while I initiated another startup on eHealth in N. America that has not yet performed. From an academic perspective, I have evolved a lot over the years, holding the position of Associate Professor position since 2009 and having led several R&D initiatives in the areas of IoT and M2M communications, eHealth; all with lots of Innovation and Entrepreneurship flavour.
In 2016, I felt I had to make another pivot, both at a business and an academic level. I have stepped back from my company at its peak. It had completed a successful lifecycle, and I saw that further growth prospects were limited. It was the right moment to focus on new industries with bigger prospects; the industry of eHealth. From an academic perspective, I was given the chance to join BTECH and address my research and personal development challenges that I described earlier.
5. Please tell us a bit about yourself, your family and your leisure activities.
I have already said a lot about myself ;) I would prefer to talk about my family. I am married to a talented, pretty and ambitious woman who knows - among other things - how to keep the balance in the house. I am father of two boys (6 and 8 years old) who love to play with LEGO Star Wars and ask me all the time to tell them naughty stories from my school years.

Regarding leisure and activities, I travel a lot reading books (in hardcopies!). At around mid-life (crisis), I also decided to start sprinting again - 100m/200m - after almost 20 years, trying to beat myself.