Portrait of Oluf Lund, academic employee
Oluf Lund will be working in Business Factory in Innovatorium in Herning as a business-coach for the students, and in his sparetime he likes to go fishing, is a keen camper and plays volleyball.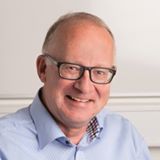 1. Why did you choose to work at the Department of Business Development and Technology?
I'm passionate about entrepreneurship and entrepreneurs. I really enjoy working with the development of people and businesses.
2. What is your area of expertise and what will you be doing here?
My strongest expertise is management and building professional networks. For example, I have an in-depth knowledge about the financial world and the many actors in the field. I also have an in-depth knowledge about the business promotion system (e.g. the business incubators and the local business service units and their partners such as the Venture Cup, CONNECT Denmark, the Danish Growth Fund etc.) In my new job, I would like to bring my knowledge and my network into play and put both at my colleagues and the students' disposal. I would also like to contribute to ensuring that the vast amount of knowledge from the university reaches companies to an even greater degree – not least small and medium-sized companies that are not that good at obtaining the knowledge on their own. More specifically, I will be working at the Business Factory in the Innovatorium in Herning as a business-coach for students who have set up – or are about to set up – their own business.
3. What is your educational background?
My most recent degree is the IMEET (Internal Master in Entrepreneurship Education and Training), which is rather relevant for my new job. I really look forward to using the knowledge and tools which I acquired on the programme.

4. What have you done before?
For the first 30 years of my career, I was employed at Danish Bank. During this time, I worked as an advisor, head of credits, head of business accounts, head of private accounts, bank manager, area manager, etc. In 2000, I became head of administrations in a growth company in Herning. Here I was involved in implementing a major merger and a great injection of capital. From January 2003 to the autumn of 2016, I was employed at the Business Development Centre Herning & Ikast-Brande as a growth consultant. Here, I primarily counselled and coached entrepreneurs/growth entrepreneurs.

4. Please tell us a bit about yourself, your family and your leisure activities.
I'm married to Grethe, and we have three grown-up children (in Aalborg, Silkeborg and Aarhus). I play volleyball and badminton and work out at Fitness World as often as time allows. I'm a passionate angler and love hiking in the mountains in France, Austria and Italy. I'm also a keen camper.